Eight forest collaboratives in the state of Washington formed the Washington Forest Collaborative Network (WFCN) to foster a community of practice for sharing knowledge and building support for collaborative forest work on a state level.  Together, they have demonstrated the ability to bring together disparate interests for innovative project design and implementation that improves forest health and creates economic opportunities in rural communities.
The Washington Forest Collaborative Network is comprised of the following organizations:
Chumstick Wildfire Stewardship Coalition
Darrington Collaborative
North Central Washington Forest Health Collaborative
Northeast Washington Forestry Coalition
Olympic Forest Collaborative
Pinchot Partners
South Gifford Pinchot Forest Collaborative
Tapash Sustainable Forest Collaborative
Effective forest stewardship reduces the risk of uncharacteristic wildfire, protects drinking water source areas, spurs rural economic development, enhances recreation opportunities, and conserves the state's unique flora and fauna. It can be difficult to manage for these diverse benefits while incorporating extensive stakeholder perspectives and local context, but Washington's forest collaboratives have risen to the challenge. Forest collaboratives are place-based groups that emphasize inclusive planning processes that achieve balanced social, ecological, and economic objectives. Forest collaboration can be a time-intensive process, but what continues to bring stakeholders back to the table are durable, cross-cutting relationships and improved projects that reflect the varied forest management goals of members.
Washington Forest Collaborative Network 2017 Annual Summit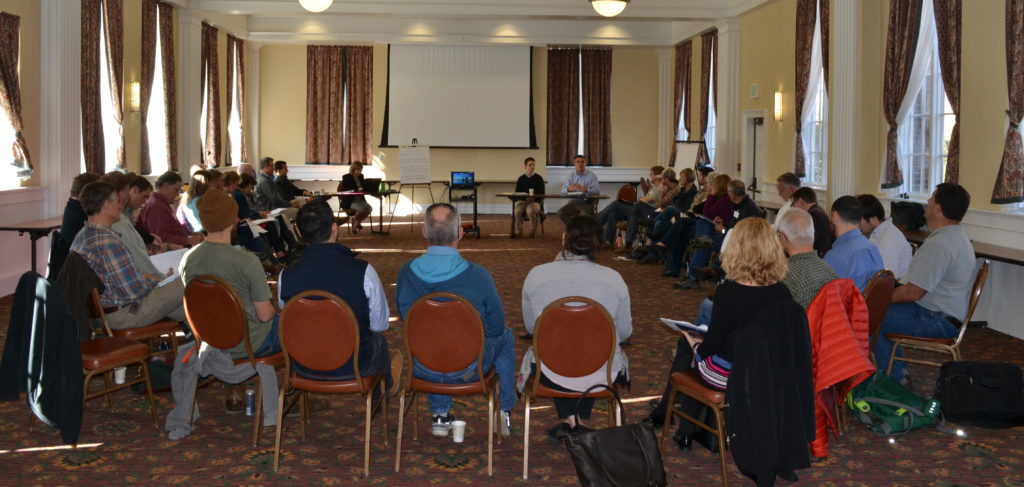 The WFCN holds an annual summits that brings together collaborative members, agency partners, state and federal officials, policy makers, and leading scientists and practitioners to network, share success stories, and discuss lessons learned.